Directions
As this conference is about Health and the Environment, we encourage you to use public transport.
Getting to the Hospital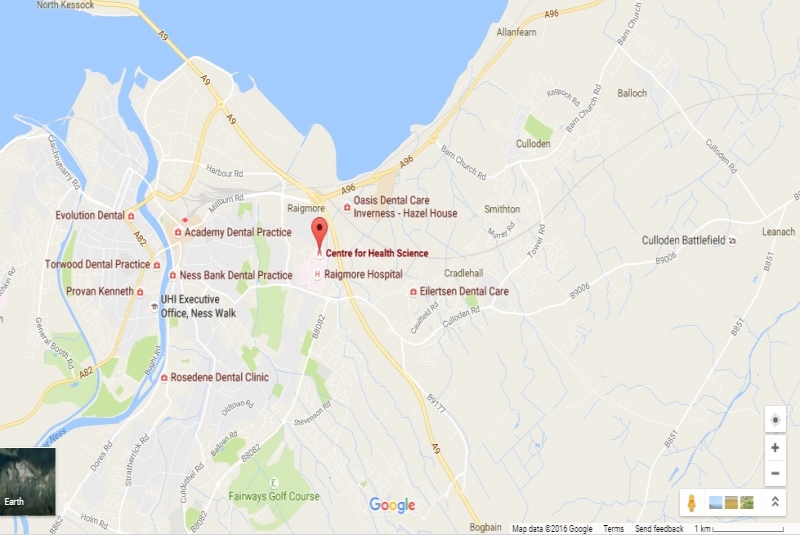 The Centre for Health Science is located within the grounds of Raigmore Hospital, which is situated in Inverness and is easily accessed by Public Transport, with buses running every 15 – 20 mins throughout the day from Inverness city centre; close to the Bus and Train station.

Inverness is well served by walking and cycling routes and also rail links.
Car parking at the Centre for Health Science costs £1. A token system is attached to the wall beside major exits.
Alternatively you can plan your journey on public transport online with Traveline

Travelling by Bus
An extensive network of bus services provides good accessibility to Raigmore Hospital from Inverness City Centre.
Bus services run at approximately 15 minute intervals throughout the day; please check with Traveline Scotland for full timetable information.
The following Bus Services travel from the city centre to Raigmore: 26A, 2, 2B, 3, 4, 34X, 102 and Service 108 (D&E Coaches).
Buses from the centre of Inverness leave from the bus stop at Falcon Square, Inverness which is situated outside of the entrance to Eastgate Shopping Centre. Falcon Square bus stop is a 2 minute walk from Inverness train station and less than 10 minutes walk from Inverness bus station. Alternatively, there is a bus stop at Queensgate which is situated next to the Post Office and is close to the front entrance of the Train Station.
Travelling by Car
The hospital is situated just off the A9; near the Inshes fly-over and Northern Constabulary Headquarters.
Google Maps can provide you with directions to the Hospital by clicking here.
There are a number of bays situated by the major entrances of the Centre for Health Science which are reserved for disabled drivers displaying Blue Badges.

Reception can order a taxi. 

Accommodation
Hotels close to the hospital include: